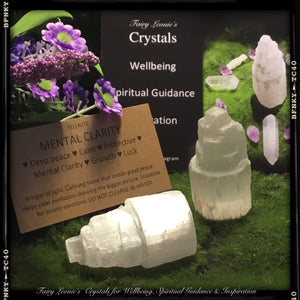 Fairy Leonie's Crystals
CRYSTAL GENERATOR for Grids "SELENITE"
Regular price
$6.50
$0.00
Tax included.
Shipping
calculated at checkout.
CRYSTAL GENERATORS for GRIDS
The central point of most grids are usually the focal point of your intention. Making crystal generators make perfect centre points focus a particular energy. Points direct energy in a powerful and focused making them awesome amplifiers & are very precise for use in crystal grids as a focus point. The thing i love about selenite is its a self cleansing crystal that cleanses and amplifies the other crystals around it. A must have for any crystal gridder!
BRINGER of LIGHT - Selenite Tower                                                                                                                                                            
MENTAL CLARITY : Deep peace ♥ Calm ♥ Protective ♥ Mental Clarity ♥ Growth ♥ Luck
Calming stone that instills great peace. Helps clear confusion showing the bigger picture. Stabilizer for erratic emotions- so looking for a grid to chill out teenagers or crazy toddlers? This could be a great focal point! 
The Ancient Greeks who named the translucent crystal Selenite which means "moon" in Greek. They even constructed windows out of Selenite to allow light into darker rooms.
Alternate names for Selenite:Gypsum, Satin Spar, Divine Light, Liquid Light
Formed from hydrous calcium sulfate, this mineral belongs to the family of gypsum crystals.

 

Before being polished, selenite can be recognized for its fibrous striations that run down the length of the stone. The selenite crystal forms typically in clay beds, or around hot springs. Due to its classification as an evaporate, selenite healing properties have a tendency to flow in a way similar to water.
Selenite is a self-cleansing crystal, that never needs clearing or cleansing of energy.
It is one of the most important tools in many metaphysical wellness worker's arsenals.
Crystals System : Monoclinic-meaning that it develops into long columns.

 

Mohs Hardness : 2
It is known for connecting to the third eye, crown, transpersonal and Etheric chakras. Through radiating light energy, it promotes purity and honesty
PLEASE DO NOT CLEANSE IN WATER – A light wipe with a damp cloth with physically clean your stone
A popular crystal when it comes to cleansing and clearing the home or office space. It dispels negative energy and enhances clarity,focus and creates calm in any space.
This listing is for one (1) selenite generator
Measuring approx. 6cm by 3cm and weigh from 65-80g depending on width average weight is 70g. You will receive a crystal similar to the ones pictured.
The Natural markings and patterns on its surface are all part of its beauty- just like us every crystal is an individual being natural they are never perfect.                                                                                                                                                                                                                                    Yours will arrive lovingly parcelled in a gift bag along with a card describing the properties of the stone as well as a complimentary crystal care sheet. Each piece is chosen carefully and vetted for quality. There's not one here I wouldn't add to my personal collection so you can shop with confidence.
crystal blessings 
Leonie
---
More from this collection