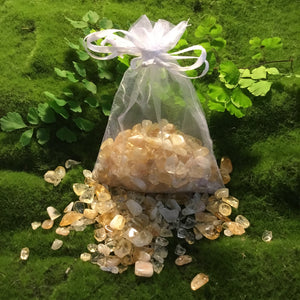 Fairy Leonie's Crystals
Crystal Chip Bulk Grid Bag CITRINE
Regular price
$16.00
$0.00
Tax included.
Shipping
calculated at checkout.
CRYSTAL CHIP BULK GRID STONE BAGS 100g
CITRINE Mini Chips     
HAPPINESS & JOY ♥ Happiness ♥ Joy ♥ Prosperity ♥ Energy ♥ Abundance
Attracts wealth, prosperity & success. Imparts joy, wonder, delight & enthusiasm. Use for mental & emotional clarity, problem solving, memory issues, will power, optimism, confidence & self-discipline. It reduces anxiety, fear & depression.
100g bags of tiny tumbled crystal chips measuring anything from 3mm- 1cm. Presented in a lovely organza gift bag. These teeny tiny tumbled crystal chips are perfect for use in crystal grids but they aren't limited to grid work!
Because of their small size they have so many other applications you can use them for. Who doesn't love a versatile crystal?! Here are just a few suggestions for their use. Light and portable carry them in your medicine pouch or pop a few in your purse. It's easy to access their energy without having to worry about lugging a multitude of huge rocks around. A very common way to infuse their magic is popping them into your essential oil blends. They are also safe for plants and fish tanks too! Add them to your candles, awesome for crafty projects or maybe style your own jewellery? My fav way to use them is as worry stones! Simply by popping them in a bowl and just run your fingers through them when you are feeling stressed or anxious seems to help the worries slip away through your fingers.
This listing is for one (1) 100g bag of mini tumbled chip crystals
Each bag contains approx. 100g weight pieces measure from 3mm- 1cm and will be mixed and varied. You will receive a crystal bag similar to the ones pictured. Just like us every crystal is an individual being natural they are never perfect. Colours and shapes will vary.                                                                                                                                                                                                                                  Yours will arrive lovingly parcelled in a gift bag along with a card describing the properties of the stone as well as a complimentary crystal care sheet. Each piece is chosen carefully and vetted for quality. There's not one here I wouldn't add to my personal collection so you can shop with confidence.
---
More from this collection