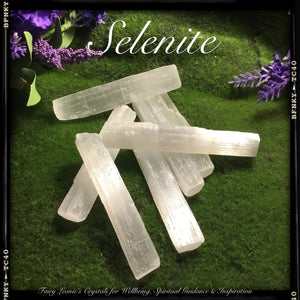 Fairy Leonie's Crystals
Crystal Grid SELENITE WAND Activator
Regular price
$6.50
$0.00
Tax included.
Shipping
calculated at checkout.
ACTIVATING YOUR GRID
Activating is the final step in creating a crystal grid, an activating crystal can be any type of crystal or you can even use your finger to trace the energy lines. But I find the more powerful energies to be clear quartz, kyanite and selenite as they all have strong vibrational protective energy.
To activate a crystal grid, take your crystal of choice (can be small or large), draw an invisible line between each stone to energetically connect each to the next. You can start at the first stone you laid or the outside- there really aren't any "rules" its up to you. Think of it like "connecting the dots" when you were a kid. Trace as many times as you like until you feel the energy is right for you.
SELENITE CRYSTAL WAND:
The healing energy of selenite is well renown. It is a crystal that's never need cleansing or recharging- brilliant to sweep away negative energy from the auric field. Selenite has the ability to quickly unblock stagnant, stuck energy to promote a healthy, smooth flow of energy throughout your grid and can also be used on your body. It dispels all negative energy, bringing calming energies, mental clarity and deep peace.
Selenite is one of the few crystals that does not retain negative energy so do not need cleansing please AVOID WATER
This listing is for 1 ( one) wand Each selenite wand is unique in texture & pattern—they are all beautiful and have an almost moon like glow. The lengths average around 10cm. You will receive a wand SIMILAR to those pictured – colour, size, thickness, shape of the crystals may vary.
Yours will arrive lovingly parcelled in a gift bag along with a card describing the properties of the stone as well as a complimentary crystal care sheet.Each piece is chosen carefully and vetted for quality.
---
More from this collection